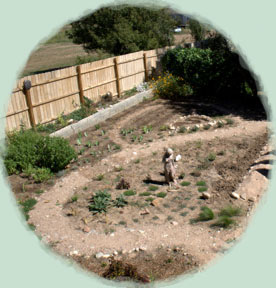 In July 2009, we bought a two-storey house in Cuyamungue, New Mexico, on 1.1 acres of land. Cuyamungue is in the Pojoaque River Valley between Santa Fe and Española at an elevation of 6000 feet. The lot is long and narrow (barely wide enough to accommodate the house, which is positioned lengthwise). Earlier residents had planted some trees: a large willow (now with numerous dead branches), a small apple orchard in the remote back yard, and pines in front. Aside from a narrow flower bed near the front door, the property was otherwise uncultivated and neglected. Work began in earnest in 2010 to bring areas near the house under cultivation. A wood-panel fence was put up around some of the front lot and all of the back, a small vegetable garden was started, and the third of the backyard nearest the house was transformed into flowerbeds, paths, and seating area.
A word about our climate: Average minimum temperature in December and January is 15 Fahrenheit. Average high temperature in June and July is 90. Average annual rainfall is 10 inches. (This would be good news for growing aril irises, except for the fact that half the year's rain falls in July, August, and September.) The growing season is about 150 days, with average last frost around May 15 and first frost around October 10. Our soil is a loamy sand with a fair amount of small gravel and some organic matter.
Our worst invasive plants are Siberian elms and field bindweed. We have resorted to glyphosate to control them, although the garden is otherwise organic.
I prepare flower beds by turning the soil and digging in about 2 inches of cotton burr compost, with a sprinkling of cottonseed meal in some areas. For watering, I bury soaker hoses about 3 inches deep. This allows slow, deep watering with minimal loss to evaporation.
A semi-shaded garden (with lots of organic matter and sulfur added) is planted in hostas, ferns, and Siberian and Lousiana irises. Beds with more or less full sun grow a modest collection of TBs, dwarfs, medians, arilbreds, and spurias. Other areas are xeriscaped with succulents, creeping thyme, and ornamental grasses.
A small slightly raised bed with incorporated gypsum and pumice was built for the pure arils.
The transformation of the back yard has been a lot of hard work, but quite rewarding. What used to be hard-packed ground that would flood with each heavy rain and support a forest of weeds in the summer has become raised sand-and-rock paths and rich, well-drained garden beds. The perennials are taking hold, and the promise of coming years is beginning to become visible.
Plans for 2011 include a pond, a berm, and of course a large seedling bed!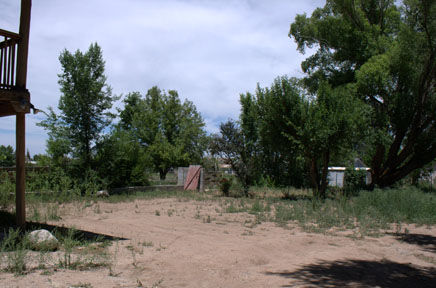 The back yard, as it was when we arrived, autumn 2009
(facing north)
Breaking ground: new flowerbeds, April 2010
(facing west)

Telperion Oasis, September 2010
The first iris planting (behind statue), September 2010
(facing north)

Through the seasons: first snowfall of the winter, December 2010
| | |
| --- | --- |
| | |
| SDB bloom, April 2011 | Miraline inspecting the bloom stalks, April 2011 |
In April, I constructed the pond, and in May built a berm using the excavated soil along with pumice, gypsum, gravel, sand, and some compost. A small bog garden was created adjacent to the pond: lots and lots of compost and some soil sulfur. Plants are on order to plant the berm and bog, and water lillies and oxygenators have been ordered for the pond.
| | |
| --- | --- |
| | |
| View from above: the berm is to between the pond and solar panels. | A closer view of the pond, with th berm behind. |
| | |
| The solar-powered waterfall flowing into the pond; the small bog area is in the upper left of the photo. | A view of (most of) the berm. The round cement structure behind is the lid to our septic tank access, soon to be obscured by plantings of Agastache in front of it, and Iris pseudacorus in the bog. |
| | |
| Waterlily blooming in the pond in August. | Newly planted iris bed along the driveway; portulacas in full bloom. |
| | |
| Autumn leaves on the frozen pond, November 2011. | Autumn leaves around the lavender and aril bed, November 2011. |
| | |
| Pond in the snow, December 2011. | Iris samariae in the snow, December 2011. |
| | |
| Lavender in front of aril bed, December 2011. | Harry Lauder's Walking Stick, December 2011. |
September 2010
updated December 2011
Unless otherwise noted, all text and illustrations copyright Tom Waters and all photographs copyright Tom or Karen Waters. Please do not reproduce without permission.