his dish is both delicious and utterly simple, making it a classic favorite whenever there's a need for something tasty and elegant when no one feels like a heavy or elaborate meal. The key is to use good, fresh ingredients and to rescue them from the broiler at the right time.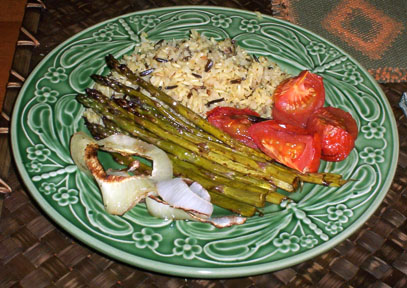 Begin by preparing the asparagus. I use about 1/2 to 2/3 of a bunch for two people; a whole bunch would feed four. Wash well, and snap the stems off where they break naturally. Discard the woody lower portions. They can go in the compost or help contribute to vegetable stock later. (Alternatively, use can use a vegetable peeler on the bases of the stocks - no waste, but more trouble. )
Slice about half of a medium-sized red or white onion and separate the rings.
Quarter two or three tomatoes, leaving the skins on but removing the hard stem end.
Cover a cookie sheet or baking tray with aluminum foil. Arrange the asparagus on the tray, using onion rings to cover the tips. Arrange tomato quarters around the outside, leaving the bottoms of the asparagus stalks exposed. Drizzle liberally with olive oil and a modest amount of balsamic vinegar. Cook under a broiler (we use a toaster oven), for about 30 minutes or until the onions begin to brown around the edges and the tomatoes are soft.
Good accompaniments for this dish are a mixture of brown rice and wild rice (shown in photo), or pasta in a simple creamy sauce. Simple dinner rolls also serve well.