Homemade falafel is incomparably aromatic and satisfying; it can't be compared with stuff made from mixes or even what you get in some restaurants. This is a simple and delicious recipe, very easy to do with a food processor.
Lemon-tahini sauce is the traditional accompaniment to falafel, but after trying a healthy summery salsa made from cucumber, avocado, tomato, and tomatillo instead, we seldom use the traditional sauce anymore.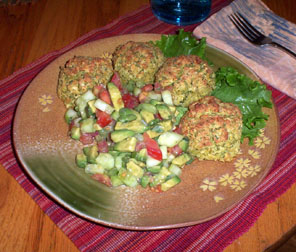 Preparation
The night before, put about 1 to 1-1/2 cups of dried chickpeas (garbanzo beans) to soak in a bowl of water.
The Falafel (Serves 2-3 )
1 to 1-1/2 cups dried chickpeas, soaked for 24 hours or so
1/2 small onion, chopped
1/4 to 1/2 cup parsley, chopped
6 cloves garlic, coarsely chopped
1-1/2 tsp whole coriander seeds
1 tsp baking powder
1/2 tsp salt
1/2 tsp lemon juice
Preheat oven to 375. Combine ingredients in a food processor and pulse until the mixture is dense and pasty, but with lots of small chunks of chickpea still present - it should not be smooth.
Spray a baking sheet with cooking spray. Using hands, shape chickpea mixture into balls or small patties and set gently on baking sheet. Spay with cooking spray, and bake for 40 minutes or until golden brown.
The Salsa
1 avocado
1/2 cucumber
1 tomato
2 tomatillos
1/2 tsp lemon juice or lime juice
dash of salt
freshly ground black peppercorns (to taste)
1 tsp chopped fresh mint
You can make this while the falafel is baking. Dice ingredients into small chunks and combine. Chill.
Notes
Falafel is traditionally fried in olive oil. It's certainly yummy that way, developing a special crispiness and flavor. However, we like the baked version almost as well, and it's healthy and much easier to make (no worries about the patties staying together as you turn and move them in the oil, and no standing over a hot stove).
Ingredient Corner
Tomatillos are a relative of the tomato and pepper, often used in Mexican cuisine. They have a tangy, citrusy flavor and add a lot of life to this salsa. Buy firm ones that with rich green skins. Remove the papery husks before using.