have loved the flavor of green chile since my youth here in New Mexico, and green chile stew provides a special kind of "chile fix" that is hard to beat, especially during the cold of mid-winter. I've tried different approaches to a vegetarian rendition of the traditional recipe (which uses beef), and have settled on this tempeh-based version as the most satisfying. The liquid smoke is the key to giving it a boost of meaty flavor.
This recipe is completely vegan if you use Tofutti sour cream and omit the cheese garnish.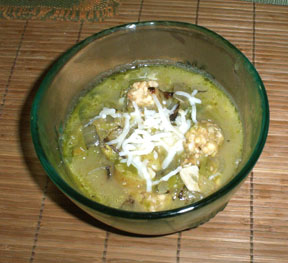 Green Chile Sauce
1/2 onion, chopped
6 cloves garlic, sliced
1 Tbsp whole-wheat flour
1 13-oz. container frozen green chile
1 tsp oregano
1 cup vegetable broth
olive oil
Sautee onions in olive oil over medium-high heat until translucent. Add garlic and flour, sautee until the ingredients begin to brown. Add vegetable broth, a little at a time, to make a gravy. Add green chiles and oregano and let simmer for at least 30 minutes. If you like, you may add a chopped tomatillo, a tablespoon of sour cream, and/or some chopped fresh cilantro. I like to partially puree the sauce with an immersion blending, being sure to leave some whole pieces of chile.
This sauce can also be used as enchilada sauce, in burritos, or with nachos. It can be made ahead of time and kept in the refrigerator for a week or so.
The Stew (4 servings)
1 package tempeh, chopped into small cubes
1 small onion, chopped
green chile sauce (above)
vegetable broth, as desired
1 potato, chopped into small cubes
1 tsp Bragg's liquid aminos (or 1/2 tsp salt)
dash of liquid smoke
Sautee the onions and tempeh until they brown in spots. Add the green chile sauce, potatoes, Bragg's, and liquid smoke. Add vegetable broth as needed to maintain the desired thickness. (We like ours pretty thick, but some dilution of the chile sauce is still required.) Let simmer for about 20 minutes, or until potatoes are fully cooked. You may top each serving with a dollop of sour cream or a sprinkling of grated white cheese (jack, asadero, or mozarella). Serve with a flour tortilla.
Ingredient Corner
Bragg's liquid aminos is a salty product, similar to soy sauce but with a less pronounced flavor.