A classic appetizer in Greek and other Mediterranean countries is peppers, onions, and garlic cooked in lots of olive oil, and spread over crusty, thick toast. I added cubes of polenta to transform it into a main dish. Beware - this is for folks who love olive oil!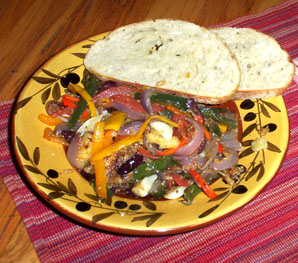 Preparation (Serves 2 as a main course, 4-6 as an appetizer)
2 large bell peppers or 6-8 small sweet peppers (yellow, orange, or red are prettiest)
1 poblano or Anaheim chile
1 small red onion
1/2 tube of prepared polenta
1 bulb garlic
1 roma tomato
1 dozen kalamata olives
1/2 tsp dried or fresh thyme
1/4 cup olive oil (or more)
high-quality rustic or artisan bread (we used a local rosemary bread)
Slice the peppers, tomato, and onion into thin strips. Separate the garlic into cloves and peel. Slice each clove in half lengthwise, or into several slices for large cloves. Slice olives in half lengthwise. Cut the polenta into 1/2-inch chunks.
Put a large frying pan over medium-high heat. Pour in enough oil to generously coat the bottom of the pan. Add onion and polenta, and fry until they just begin to brown a little. Reduce heat to medium and add the garlic and peppers. Simmer in oil until the peppers soften. Add tomato, thyme, and olives, reduce heat to medium low, and pour on remaining olive oil. Simmer, covered, until tomatoes are soft.
To serve as an appetizer, slice the bread thickly and toast until golden. Slather the pepper mixture over the bread and enjoy. As a main course, spoon the mixture onto plates and serve with lightly toasted, thin slices of bread.
Notes
Other herbs can work nicely, too (oregano, rosemary, and sage come to mind). You can also try a different mix of sweet and hot peppers, to suit your own taste.
Ingredient Corner
Polenta is cooked cornmeal. You can make your own, but for this recipe it is easier (and better) to use the prepackaged kind, sold in 18-oz tubes, as it is nice and firm and easy to cut into chunks. Different flavors are available. I used a basil and garlic flavor.