Tarot Consultations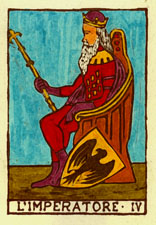 My tarot reading style is very interactive and conversational. I use the tarot as a window on the energies and themes that are presently relevant to your question or life situation. I work together with you to interpret the meanings of the cards and find positive approaches to work through the issues they represent. This style of reading can be very empowering, because you, as the questioner, feel a stronger sense of ownership and engagement in the final interpretation and advice that emerges from the consultation session.
What a tarot consultation offers
insight on present issues, their causes, and their paths to resolution
insight on the roles we take on and the masks we wear
insight on deeper growth and learning opportunities that are presenting themselves
Tarot consultations can be focused on a specific question, or can serve to give a general picture of forces at work in your life at the moment and what needs to be focused on.
Single-Subject Tarot Consultation ~ 20 minutes ~ $30.00
If you would like to use the tarot for more in-depth counseling, looking at a group of interconnected questions or establishing a plan for personal growth or transition, we can work with multiple spreads and go deeper into the symbolism of the cards.
In-Depth Tarot Consultation ~ 50 minutes ~ $75.00
Astrological Consultations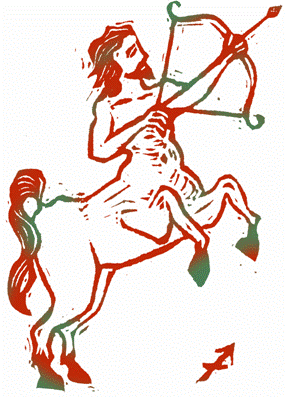 I practice astrology in a way that honors the pagan roots of the discipline, in which the seven planets visible in our skies were seen as gods and goddesses involved in the changing realities of our lives. I like to describe astrological insights with down-to-earth, memorable images, rather than abstract language. Although I am conversant with computer-based astrology, I prefer to do a lot of the work by hand. I craft handmade birth charts that feature my original artwork.
I use transit interpretation as my primary modality for looking at the prospects for future events and present trends. I have found this to be an effective tool for identifying the obstacles, opportunities, and dynamics related to upcoming situations.
What an astrological consultation offers
awareness of persistent themes in one's life and personality
awareness of talents and challenges and how to work with them productively
awareness of energetic shifts that lie ahead and how to navigate them
The cornerstone of any astrological work is the construction and interpretation of your birth chart. The birth chart not only illuminates the components of your personality and how they interact, it also gives a picture of the overarching shape of your life's journey and offers guidance on how to explore and develop your own potential as a human spirit.
Birth Chart Construction and Interpretation ~ 40 minutes ~ $50.00
A look at upcoming transits gives a picture of what to expect in the months ahead, identifying opportunities and difficulties in particular areas of life and activity. Birth chart construction and interpretation is a prerequisite for this type of forecasting.
3-month Forecast ~ 20 minutes ~ $25.00
I can also create forecasts for different time periods, or perform horary astrology to help answer a specific question. Please contact me for more information on these services.
Rune Consultations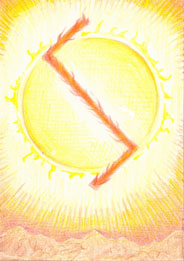 The runes are probably the most potent set of symbols used for divination, since they are also used for active magic. A runic reading is less nuanced than a tarot or astrological one, but is an ideal tool for taking charge and shifting one's personal energy. I prefer to use tarot for insight into situations, and runes as a tool for effecting change.
What a rune consultation offers
identification of the most potent energy pertinent to your need
identification of the forces to embrace to achieve your goal
identification of magical/symbolic acts to use for creating change
Rune Consultation ~ 20 minutes ~ $30.00
Teaching
I have many years of experience as a teacher of metaphysical and magical subjects. Most of my workshops are offered through Ardantane in Jemez Springs. Refer to the listing of Upcoming Events for more information.
I am also available to give workshops for small groups or to provide personalized instruction. Rates depend on the nature of the instruction and the number of participant. Please contact me to discuss options and arrangements.
Handfastings and Rites of Passage
I am available to perform handfastings, child dedications, requiems, coming-of-age ceremonies, and other rites of passage. I will design ceremonies tailored to your own preferences, and do not impose a particular tradition. What is important is that you have the ceremony that is right for you. I am licensed as clergy with the Universal Life Church, and can officiate at legal weddings in New Mexico.
I do not charge a fee for presiding at ceremonies; I regard it as a giving back to my community. If you would like to express your appreciation for my services, I suggest a donation to a nonprofit organization whose goals are consistent with my values and yours.
Spiritual Counseling and Mentoring
If you are interested in learning more about Pagan spiritual practices, or just need a friendly listener to share with as you explore your chosen path, I am available to provide guidance, knowledge, and encouragement. If you would like to pursue initiation as a solitary practioner, we can work together to develop an appropriate course of study and practice leading toward that goal.
. . . And Some Things I Don't Do
I give careful thought to the ethical dimension of my practice, and consequently there are some things that I decline to do.
I do not do divination that is aimed at obtaining information about a third party who is not present. When doing divination about a relationship, I ask that both parties be present and willing to participate fully in the session. If you come to a session alone, it is still possible to look at relationship questions, but it must be clear that the reading is about your own side of the relationship - your issues, your energies, and your perceptions.
I do not do magical work on behalf of anyone except my own family members or close friends who request it. Magic is most effective if performed by the person who needs it, not by a mercenary or busy-body. Furthermore, if I am not personally acquainted with the personality and circumstances of the person requesting the work, I cannot properly evaluate the consequences of my actions, which is essential to the ethical practice of magic.
I'm not a psychic. I don't know where you left your car keys or whether it's a good time to sell your stocks. There are people who get messages of that sort, but that is not what my own practice is about. My divination practice is oriented toward inspiring and facilitating your own self-examination and self-transformation. It's a collaborative activity in which my knowledge and experience supports you in the process of finding your own answers.