Nothing warms those cold, dark winter evenings like a mug of mulled wine, warm and fragrant. This is my own variation on a very old recipe I picked up from an Oxford antiquarian in the 1980s.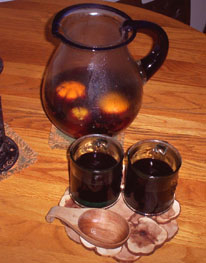 Preparation
I've discovered it is helpful to start the night before, as this gives the flavors a chance to mingle and means less time at the stove before serving the wine. Combine in a soup pot
1 bottle red wine (something you would like to drink on its own; I used Sangiovese this year)
1 orange, slice in half, with the rind scored with a knife in a number of places
1 lemon, prepared like the orange
2 sticks cinnamon
10-20 cloves
10-20 allspice berries
1/4 cup sugar (I use turbinado sugar)
Warm the mixture gently, stirring to dissolve the sugar. Do not let it boil. Transfer to an airtight pitcher and keep in the fridge overnight.
The next day, transfer the wine, fruit, and spices back to the soup pot and add
1 more bottle wine
1/4 cup raspberry, blackberry, or cherry liqueur
1/2 cup brandy
Again, warm gently but do not allow to boil. When warmed, ladle into mugs or thick glasses and serve.